Average class size 3 students. We've canceled less than 1% of our classes in 2018. We're building something great.
de-stress at Foley
Foley Prep Pros are smart, direct, funny, and always personable. We target and customize instruction to each student. At Foley, you'll see no scripted lessons, robotic lecture-style teaching, or questions unanswered.
Students who range from super-high scorers to those who struggle have been coming to Foley since we opened our first office in Watchung in 2006. We've grown 50% each year since 2013 and are tracking to do the same in 2018 - all thanks to the successes of the thousands of students we've helped get into their top-choice colleges.
Start your prep anytime, but please plan ahead - class space and tutoring slots are limited. We know you'll have a lot of questions, so call when you're ready 732-412-1416. Popular pages on this site include Warren Township, Holmdel - Bell Works, Rumson-Fair Haven, our Tutoring information page, our Class information page, How to Get Started on tutoring and classes, the Pricing Page, our new Score Improvement Guarantee, and information about our new rewards program, Foley Funbucks.
Private Tutoring
Choose from our group of experienced Foley Prep Pros who know how to improve kids' confidence and mastery of content. Your tutor will consult with you and your child at every step along the way. View our getting started page, or view our New Jersey team and philosophy page.
Private, 1-on-1 tutoring is a concierge-level service that begins with a conversation on the phone. Call 732-412-1416 anytime.
Foley Prep Pros specialize in SSAT, MCVSD, COOP, SAT, ACT, MCAT, GRE, GMAT, LSAT and other standardized exam prep
Academic tutoring for a wide range of academic subjects to AP and college level
Advising to help you make good decisions throughout your experience
3 hubs in New Jersey that are comfortable, fun learning environments
Guaranteed score improvement - click here
No extra charge for awesomeness
small classes
Perfect for students starting out in the 20-28 range on ACT or 1050-1400 range on SAT. Our average class size is 3 students. Maximum class size is 8 students. Foley Prep Pros adapt classes to attend to the individual needs of each student. Foley Prep is attuned to the subtleties of the SAT and ACT to help students master the underlying conceptual and procedural understanding these exams are currently testing.
Start by calling us at 732-412-1416 for a 20-minute conversation even if you aren't sure when to start or which test to take. Ron has given objective, expert advice to thousands of parents, students, and educators.
For very basic information about classes, view our ACT/SAT Class information page.
Every student goes at his or her own pace. We recommend at least a 3-4 month program before the first test, then ten sessions between tests. Some kids stay with us for 18-plus months.
Start anytime. We phase students into the program by first assessing them with a free initial diagnostic SAT or ACT before starting classes at our Rumson-Fair Haven, Holmdel, or Warren Hubs.
A typical class has 3-4 students; after a couple of minutes of settling in, we start with a targeted set of problems which the teacher reviews. Within each session we cycle through direct instruction of concepts, problem sets and review, and strategy review to keep things moving and productive. Our instructors are content and strategy experts, they adapt lessons and style to the students present in class.
By registering 24 hours in advance (most people book classes 2-3 weeks in advance), you ensure that we can adapt each lesson to attend to your child's individual needs.
Sit for a practice test every 3-4 classes - these are an excellent way to practice pace and attain mastery. Analyzing these tests also helps Foley Pros target specific concepts to help individuals progress in our program.
Guaranteed score improvement - click here
Ready to enroll? Mobile users, download the ultra-cool Foley Prep App. Online users, press here to jump to our booking site.
In 2017, our unique class system helped more than 700 students achieve higher SAT and ACT scores. So far 2017/2018 academic year, 5 class students got 35s on their ACTs and many more have made gains of 6-8+ points on their ACTS and 200+ points on their SATs. The average Foley Prep ACT or SAT class is 3 students - and the maximum is 8 students. We personalize each lesson to address students' areas of weakness so no two lessons are the same. Five day Boot Camps before each test are highly effective as intensive reviews and can have up to 20 students.
What makes Foley better than the rest...
test prep and admissions zealotry!
Professor Ronald Foley is a lifelong student, academic, administrator, and educationalist who grew up in Haddonfield, New Jersey. He has officially scored thousands of SAT essays for the College Board. Thanks to his SAT tutor, Myles Bass, Ron scored 1540 (scales up to 1580 on today's test) on his SAT which got him a full scholarship to study Art and Art History in the Rutgers College Honors Program. Myles's overall positive effect also inspired Ron at an early age to become a test prep virtuoso.
After a decade working as an award-winning Director for Kaplan Test Prep and The Princeton Review (when both companies were decent to work for), Ron earned his M.S. in Pure Math and is now a doctoral candidate at Rutgers. He is a former administrator and tenured Professor of Mathematics at Middlesex County College, so he enjoys helping students of all levels, especially those who struggle. He has assembled a team of dedicated, full-time, permanent experts that leverages its strengths and Ron's methods to help your child maximize his or her score. Foley Prep Pros are experts in each topic and strategy and continually adapt methods, topics, and questions to address the needs of every class. With top test scores and degrees from Caltech, NYU, Brown University, Columbia, Johns Hopkins, and the Rutgers College Honors Program, our team rocks. View team and philosophy.
excellent tutors
Some test prep 'gurus' lose perspective. Professor Foley knows that enabling his teachers to shine sets the right example for our students to do likewise. In this spirit, good teachers need autonomy. Foley Prep Pros have the autonomy to adapt every lesson and instruction to meet the specific needs of students,
Professor Foley has observed, evaluated, and trained more than 500 teachers in his lifetime. Foley Prep Pros are retained for their subject mastery and ability to connect with - and motivate - kids. We add only the best tutors to our permanent faculty of 10 year-round, salaried, full-time Foley Prep Pros. All are committed to your child's success. What other prep service builds in up to 2 hours of prep time for each teacher, every day? View team and philosophy.
Practice makes permanent: Mock ACT's and SAT's
We proctor SATs and ACTs every Saturday and Sunday during the school year and more frequently during the summer. We suggest students take these tests regularly, about every 3-4 sessions, to practice the concepts and strategies they are learning as well as build endurance for the exam. Taking regular practice tests is also a good way to limit the amount of homework we assign. Feedback is immediate and personalized tips and strategies are included. Individual test reviews are arranged by request as hourly tutoring sessions. View practice test schedule.
Flexible pricing
Great value on 1-on-1 private tutoring and class packages. View pricing.
Online tutoring
Meet your Foley Prep Pro online if you can't meet at a hub. Some students do both - some weeks online, others in person, while others meet entirely in person, while still others meet entirely online. Your choice! View Foley Prep Online.
INSIGHTS INTO ADMISSIONS AND TESTING
Professor Foley has visited more than 250 colleges and is the 1,000th member of HECA. He is also a member of NACAC, NJACAC, NCTM, and MAA. In 2002, he scored thousands of SAT essays for the College Board. He has been to more College Board and admissions conferences than he'd ever care to admit.
Ron meets regularly with senior-level leaders in education who influence the direction of standardized tests. We know where the SAT is today, and where it's going tomorrow.
If you are looking for concierge-level admissions consulting for college, prep schools, or graduate schools, visit FoleyCollegePrep.com.
Foley Prepsters make Bigger Score Gains in Less time
We've been expanding in New Jersey for good reason: our students make huge strides on their standardized test scores and in their grades because our teachers are incredible. Most are full-time, permanent, salaried employees. Not all students start out excited to get tutored or go to an SAT or ACT class, but bring them to Foley and you will see a transformation. We use quantitative data that we gather on each student (we keep records on each student's performance over time) as well as qualitative data (that's the people-part: we attend to learning affect through humor, thoughtful teacher-moves, and when all else fails, waffles) to make learning relevant, efficient, and fun. View team and philosophy.
Inspired, relaxing learning "HUbs"
After working for The Princeton Review and Kaplan for more than a 10 years (then teaching HS math before becoming a tenured math professor), Ron opened his first office in 2006. Our newest hub is in the storied Bell Works building in Holmdel. Now there are 3 full Foley Prep Hubs and one satellite office.Students learn better in a controlled setting away from the distractions of home and the dullness of school. Our faculty gains from the collaborative atmosphere in which we exchange ideas to individualize learning for each child. View Foley Hub locations.
Accessible 365 days a year. classes and tutoring 300+ days a year.
Private tutoring for a wide range of tests and academic topics and an ACT/SAT program that is the most effective and simple to join anywhere. We are almost always open 6 days a week and offer 2 SAT classes and 2 ACT classes every night - and more on weekends. View schedule.
Flexible scheduling tailored to each child
With our help, select from classes that progressively eliminate your child's weaknesses. Book them weeks in advance or the day before. No two kids take the same path through Foley Prep. We recommend at least 10 Foley Prep classes or private tutoring appointments between any two tests. Students can join any week, pause, then continue. View our getting started page.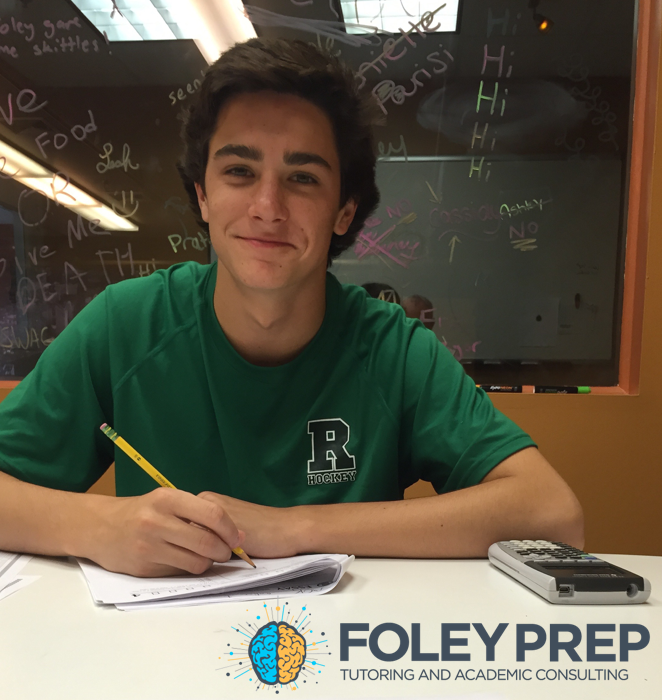 Congrats to our 8 Ivy admits starting as freshman in Fall 2018
Foley Prep Pros meet in our Foley Hubs for almost all academic subjects through college level Biology, Mathematics, Physics, Chemistry, Reading and Writing. Tests include SSAT, ISEE, COOP, SAT, ACT, GMAT, GRE, LSAT, and MCAT, among others.
We recommend at least 10 hours of tutoring and 2-3 practice tests between SAT or ACT administrations.
View our getting started page, or call 732-412-1416 to get started with private tutoring.
Foley Prep Pros have scored in the top 1% on their tests and have degrees from Yale, Johns Hopkins, Columbia, and the Rutgers College Honors Program. They are experts in the SAT and ACT and with plenty of prep time each day, personalize each lesson so each student makes progress.
We recommend taking at least 10 classes and 2-3 practice tests between each test administration.
View our getting started page, class schedule page, or call 732-412-1416.
Live from Foley Prep Studios in the Bell Labs Building in Holmdel, NJ! Eight Nobel Laureates worked here.
Liam is spearheading our growing Online Division and will guide each client through the simple set up process. Foley Prep Pros who have proven themselves as effective online communicators will be paired up with your child for convenient, effective sessions in any subject area or for test prep.
Call 732-412-1416 now to get started with online private tutoring.
College Admissions Consulting
Ron has been a college admissions pro since 1992. He has personally helped more than 5,000 students get into their top choice colleges. College Prep begins back in 8th grade for students aiming at the Ivy League. Ron's growing team of admissions folks and essay editors on staff can take all the stress out of the process.
Success is following on success. Two of Ron's admissions students started at Yale in Fall 2017. One started Dartmouth, one Cornell, and plenty of other students are thrilled to get into their top-choice colleges.
Admissions Consulting is a concierge-level service that accepts a limited number of clients. Please call 732-412-1416 today to get on the list.
Notables about our services and subjects taught:
SAT and ACT small classes (max size 8 students) and private, 1-on-1 tutoring.
Practice full-length, official SATs and ACTs every weekend.
HS entrance exam prep for MCVSD, SSAT, COOP, and ISEE.
Graduate school exam prep for LSAT, GRE, GMAT, MCAT.
Academic subject tutoring college prep, honors, AP-level, and college-level. Algebra, Geometry, PreCalculus, Calculus, Physics, Chemistry, Biology, Economics, Computer Science (Java, Python, C, C++), English Literature, History, Environmental Science, and more.
Concierge admissions consulting for prep schools, college, and graduate school.
Boot Camps for SAT and ACT Monday-Friday leading up to most SAT and ACT tests.